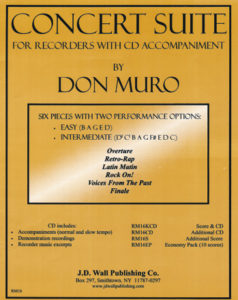 from American Recorder magazine:
"Don Muro is well known as a composer, lecturer, and educator who specializes in electronic music technology…Concert Suite gives beginning recorder players a multi-movement composition with six songs in various musical styles. Each of the six songs has two parts: a basic part with simple rhythms and notes limited to B, A, G, E and D; and an intermediate part with those notes plus D1, C1, F# and C for more advanced beginners. Each song can be performed and practiced individually, as the CD has separate tracks for each piece. One fast piece has an extra track that is slower for practice, and each CD track starts off with a short introduction. For performance of the whole suite, all six pieces are on one track. Performance time is about 10 minutes.
Everything is well-thought-out and exceptionally user-friendly. Included are helpful comments and suggestions for performance. There are suggestions for additional breath marks to make shorter phrases for very young players, as well as call-and-response options to create polychoral effects when playing with large groups. Stylistic variety ranges from the sort of hip-hop-techno "Retro-Rap" to the dreamily beautiful "Voices From the Past," which has vocal "ahs" in the accompaniment. The driving "Rock On" is the powerhouse of the suite, but the majestic, soaring "Finale" is my personal favorite. Other movements of the suite are "Overture" and "Latin Matin."
Accompaniments are exciting, and orchestrations have that big Muro sound that makes even the simplest music lots of fun for performers and audiences alike. I can hardly wait until my beginning recorders present this beautiful suite on our next program."
Songs:
Overture
Retro-Rap
Latin Matin
Rock On!
Voices From The Past
From the composer: Concert Suite gives beginning recorder students an opportunity to perform a multi-movement work featuring pieces in various musical styles.  The recorder part uses only five notes – B, A, G, E, and D.  The optional second recorder part adds the notes C, F#, high C and high D.  The suite can be performed as one concert piece lasting approximately ten minutes.  In addition, each piece can be performed individually.  The CD includes separate accompaniment tracks for each piece.
RM16KCD Kit (1 score & CD)  $16.95 

RM16EP Economy Pack (10 scores)  $19.95