An Overview of Electronic Instruments
with additional features:
Performing with Synthesizers: A Personal Perspective
and live concert footage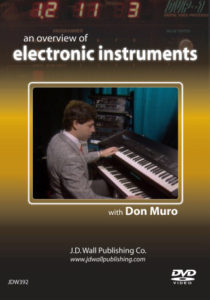 An Overview of Electronic Instruments was released on VHS and quickly became one of the best selling videos on electronic music.  Because it focuses on concepts and performance rather than specific instruments, it is still being used in music appreciation and music technology classes. This DVD release has been digitally remastered for improved video and audio quality.  In addition, chapter markers have been added for each topic.
The DVD also includes Performing with Synthesizers: a Personal Perspective.  In this new documentary featurette Don Muro describes his work with synthesizers, beginning with the Moog synthesizer in 1970.  The video includes live performances featuring legendary instruments such as the ARP 2600 synthesizer, the Roland TR-808 drum machine, the Korg M1 music workstation and the world's first MIDI pedalboard.
The bonus Extras section includes live concert footage of Don performing on his multi-keyboard setup.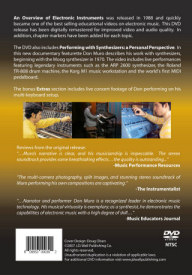 "An Overview of Electronic Instruments is a valuable record of the development of technology-based music performance…Muro, a recognized expert in music performance technology, has been intimately involved in that area for several generations of its development. Muro's personal connection to music performance technology lends an interesting perspective to the practical concerns of electronic musicians…
(Performing with Synthesizers) is a fascinating look into the needs of a master performer from his use of the Moog modular synthesizer through polyphonic instruments such as the Korg M1…This DVD is an excellent historical record of early electronic instruments and would be valuable for teachers and students interested in preserving that history."
Music Educators Journal
"There is good variety in the musical selections, many by Muro, but others from standard musical repertoire, including the Gigue Fugue by Bach.  During performance there are close-ups and split screens, to show his hands and his feet (he uses a custom-made digital organ pedal board, which showcases his training as a classical organist). All segments are in color, explanation is verbal with no on-screen text, and the visuals are thoughtfully presented without glitzy effects.  It is worth the price of the video to hear/watch Muro perform—always the consummate artist committed to excellence."
School Music News
"Don Muro's "Overview of Electronic Instruments" is as valid a work today as it was when first released. While the instruments and technologies have changed and progressed since this video was originally made, the concepts and ideas presented are relevant and useful. Don's musicality is timeless and exciting to witness, especially in the new video documentary Performing with Synthesizers and in the live concert recordings. The historical perspective alone makes this an excellent work for anyone interested in the development of today's music technology wonders. Today, as we progress from hardware to software, we still need to connect to the physical act of music-making, and Don's many musical performances included on this disc help remind us of the importance of instrumental technique and traditional musical values in performing with technology."
David Mash, founder of the nation's first music synthesis department and Vice President for Information Technology at Berklee College
"The DVD includes a new video, Synthesizers in Performance, which provides a fascinating look at Don's work with synthesizers starting with the Moog. I highly recommend this DVD to anyone with an interest in music technology and/or electronic music. Teachers will find it to be an excellent demonstration and historic overview for students grades six through college."
Dr. Thomas Rudolph, Author, Clinician, Educator. President of TI:ME (Technology Institute for Music Educators)
Reviews from the original release:
"…Narrator and a performer Don Muro is a recognized leader in electronic music technology.  His musical virtuosity is exemplary; as a synthesist, he demonstrates the capabilities of electronic music with a high degree of skill…"
Music Educators Journal
"The multi-camera photography, split images, and stunning stereo soundtrack of Muro performing his own compositions are captivating."
The Instrumentalist
"…Muro's narrative is clear, and his musicianship is impeccable.  The stereo soundtrack provides some breathtaking effects…the quality is outstanding…"
Music Performance Resources
Item #: JDW392
Cost: $10.00 (Free shipping in the U.S. only – please contact us for international shipping rates)